Welcome to
Flow state River Instruction
At Flow State, we provide world-class whitewater rowing instruction, paddle raft instruction, and river guiding. Based in the Columbia River Gorge our single and multi-day private or group lessons will take your whitewater rowing and paddle rafting technical skills to the next level. Give us a call to customize your day on the river. We look forward to hearing from you.
About Flow State River Instruction
Founded out of our love for sharing rivers, wilderness, and adventure with others. Flow State River Instruction combines experience, knowledge, and education to create an industry-leading curriculum, for whitewater rafting, that we are excited to share with you. Flow State specializes in whitewater rowing instruction, paddle raft instruction, and river guiding. We are accredited with the most renowned organizations in the industry, including the International Rafting Federation and the American Canoe Association.
From class II to class IV whitewater we will provide you with a unique educational experience that will leave you feeling more confidant and increase your competency in rowing, paddling, and reading the river.
Whether you want to just brush off the dust, push yourself on more challenging whitewater, or learn to manage risk on the river we can tailor whitewater rowing and raft instruction to meet your goals and take your rowing to the next level. With many rivers to choose from in the region, we can create an experience that meets your personal goals.
Guide School Training
Our trainers have decades' worth of experience teaching whitewater rowing and paddle rafting, as well as Swiftwater Rescue. We have developed a curriculum that will provide novice guides with the technical knowledge to guide and manage risk in class III whitewater. We also offer the opportunity to develop more experienced guides and assess them to an international standard through the International Raft Federation.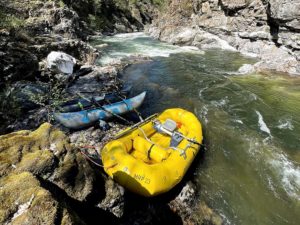 Customized Courses
Do you have a partner or group of friends that want to learn to navigate whitewater with you? We would love to develop a program to accommodate up to 4 people over the course of 1 to 6 days on a variety of rivers in the Pacific Northwest. Please give us a call to discuss your custom course.
Confident
"This class unlocked a new world for me in terms of learning how to "see" and move in whitewater. I left feeling empowered by newly acquired skills and safety techniques, with the confidence to keep learning, and with lots of inspiration for future trips."
Professional
"Extremely professional, knowledgeable, and personable. You've found some good people, which adds a great deal to the experience and learning.
Dustin is a Waterman and should be respected throughout the industry. I learned more in 5 days than I had ever before. Confidence-inspiring and stress relieving. It was well worth its cost and as a bonus, I made new friends."
Balanced
"Their ability to balance teaching with direct feedback and complementary skill-building (rapid swimming, boat flipping, rigging, etc.) was top-notch. From the beginning of the trip to the end, my rowing has drastically improved, and I feel confident being able to pick lines and then execute them, catch eddies, ferry, and just generally read the water better. They solidified my love for this sport even more, and I can't thank them enough for what I've gained coming out of this rowing class. You guys are amazing :)"
Knowledgeable
"All of your instructors were knowledgeable and presented the material in an accessible way which allowed us to directly apply it on the river. Dustin was fantastic with giving direct and specific feedback on how to improve when he observed areas in need of improvement while rafting. He was great to go to when a kick in the butt was needed."
Location
Flow State River Instruction
Grants Pass, Oregon
Hours
Contact us to schedule your personalized day on the river